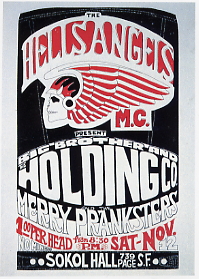 The original/first print poster was printed prior to the show, and measures approx. 14" x 20". This poster was printed on a very sturdy/firm vellum paper stock.

The second print poster, an unauthorized bootleg, also measures 14" x 20" and was printed in the 1980's. Unlike the original, this poster was printed on a rather thin paper stock, somewhat flimsy

The image of the original ticket is also prominently displayed in "The Art Of Rock", plate 2.250 The condition of the one we are offering is flawless, NM/NM+. It is also a very rare find.