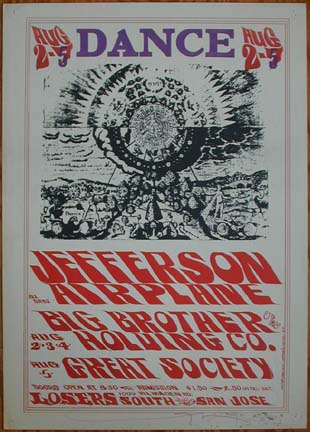 The original/first print poster measures approx. 14" x 20", and exists in two variations.

Type A This poster has the word "Dance" stamped in purple ink across the top of the poster. The number "5" is also stamped in purple over the "7" in the top two corners of the poster. This was done to reflect the cancellation of Jefferson Airplane's shows (8/6 & 8/7). It is our understanding that the Airplane received a better offer for a gig in San Francisco, so they skipped these San Jose shows.

Type B This poster has no purple overprinting. It is otherwise identical to Type A

Two points are worth noting. First, there was a small stash of these posters that turned up a few years back. We believe that they were found at the printer, or related parties, and therefore did not receive the purple overprinting (they are Type B) to reflect the band/show changes. The posters that were actually used to promote the shows (Type A) were overstamped, and most have pinhole or tape problems from display. Many of the posters that turned up in the stash are very clean, and were tucked away before the changes to the billing were made. Secondly, these were very early Janis Joplin/Big Brother shows. At this point, Janis had been with the band less than six weeks.

The original handbill was printed prior to the shows on very thin paper. We have seen very few in the past, but can safely say that the handbill image is identical to the poster.