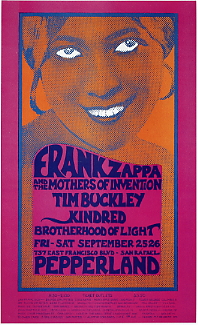 This terrific psychedelic image was designed by Mark Behrens, and is prominently displayed in "The Art Of Rock", plate 4.86. It promotes a pair of shows at Pepperland, a small venue in San Rafael, CA (in Marin County).
Unlike the Fillmore & Avalon, printing volumes for the smaller venue California shows were quite small. These shows took place Sept. 25 & 26, 1970, and featured Frank Zappa and The Mothers Of Invention, Tim Buckley &
Kindred.

The original/first print poster (this poster was not reprinted) measures approx. 13" x 22", and was printed on a coated index paper stock. The poster we are offering is in EXCELLENT condition, NM/NM+ (as nice as you
will ever see).

The original blank back handbill was printed on the same paper stock as the original poster, and measures approx. 3 1/2" x 5 1/2". It is likewise in EXCELLENT, NM/NM+ condition.