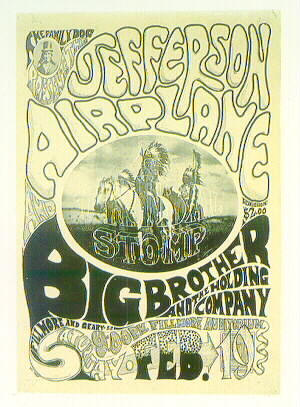 Even though a handful of Family Dog shows preceded FD 1, this was the first show that was actually promoted by Chet Helms, a man whose name is synonymous with the Family Dog moniker. Unlike the majority of the Family Dog shows, this show took place at the Fillmore Auditorium, where Chet & Bill Graham had agreed to share time. It took Bill all of a month to muscle Chet out of the Fillmore, and send him to the Avalon for future shows.

As was the case with many of the Family Dog images, the Native American Indian is featured prominently here. It was Chet's idea on this poster, and he heartily encouraged the imagery on future designs. Wes Wilson is also credited with the FD 1 design work, and he would at least be partially responsible for 11 of the first 12 Family Dog images (not to mention virtually all of the early Bill Graham/Fillmore images). He has been tagged the "Father of Psychedelic Poster Art", and that contention can hardly be argued.

The original/first print poster was printed on a thick/uncoated index stock, and measures approx. 14" x 20"

The second print poster, an authorized reprint, was printed on relatively thin (somewhat flimsy) index paper stock. It carries the notation "No. 1-2" in the lower right corner, and measures approx. 14 1/4" x 20 1/2". This poster was most probably printed in 1967.

The third print poster, an authorized reprint, is very similar to the second print poster, save the following variation. In the lower left bottom margin of the third print poster, the following printing credit can be found, "1967 c Family Dog
Productions 639 Gough St., San Francisco, Calif. 94102". This poster was printed no later than 1968.

The original handbill was printed prior to the shows on very thin paper stock, and measures approx. 5 1/2" x 8 1/2".

It is believed that the original run of FD 1 posters was no more than 250. VERY few survive today, which is reflected in the market price ($10,000). At $75, the price for a poster from the second printing (1967) seems very reasonable. We have posters that have been hand signed by both Chet Helms & Wes Wilson, which we would highly recommend for lasting value.