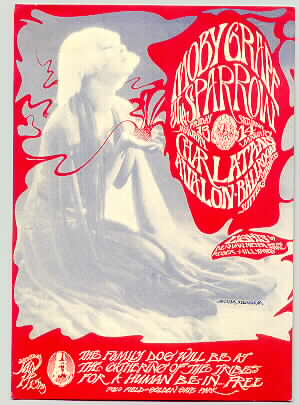 This is unquestionably one of the more beautiful psychedelic images of the Fillmore-era, and certainly one of the more popular. In addition to promoting the shows at the Avalon, this poster also promotes the Human Be-In at Golden Gate Park. The Be-In took place Jan. 13, 1967, and is widely regarded as THE seminal event in the hippie/counter-culture movement. It featured "All the SF Bands" (Dead, Airplane, Janis, Big Brother), and many noted philosophers of the era (Timothy Leary, Allen Ginsberg, etc.). It got the ball rolling.

This poster was printed twice before the shows, most likely by two different printers. The characteristics of the two original posters are as follows,

The first original poster (we will call it Type A) was printed on relatively thin paper stock (this stock seems to match the stock used to print the bulk rate postcards. They were most likely printed on the same sheet), and measures approx. 14" x 20". On this poster, there is a "Doube-H Press" printing credit in the lower right corner.

The second original poster (we will call it Type B) exists on two relatively thin paper stocks (these stocks seems to match the stocks used to print the blank back postcards, and the "place stamp here" postcards) . This poster also measures approx. 14" x 20". Unlike the Type A, the Type B does not have the "Double-H Press" printing credit.

We have actually examined an original proofsheet, complete with poster, cards & (most importantly) tickets, that did not have the "Double-H Press" printing credit. We are certain that the posters without the credit are originals. Our best guess is that after the first run of posters was completed (bulk rate back cards, "Double-H" posters), the printer was changed. This was the last poster that Double-H printed for the Family Dog, so maybe something happened to cause the change. The plates were most likely sent to another printer, and the previous printing credit was (for obvious reasons) removed. The remaining posters, cards and tickets were printed without the credit.

The original postcard measures approx. 5" x 7", and exists with three different backs. The card available on the website has the "place stamp here" back. If you have an interest in one of the FD 43 cards with a bulk rate or blank back, please call or send us an email.